The Experience
The United States prison system is in disarray…The worst inmates all over the United States have escaped their respective institutions looking for a new place to call home. After numerous murder sprees and in some cases "Clown Sightings" across the nation, these psychopaths have found the destination they were looking for in Mansfield Ohio….
The Ohio State Reformatory!
Once known for filming movies and music videos, these crazed inmates have taken over and renamed it BLOOD PRISON! The authorities do not dare go after them as these extremely psychotic inmates have The Ohio State Reformatory locked down…..but every Halloween they open up the gates and dare anyone to try and make it through this once famous prison….
Do you have what it takes to ESCAPE BLOOD PRISON?!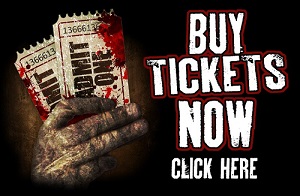 Please note:
ON-SITE TICKETS ARE CASH ONLY.
The age requirement to enter the haunt is 13 years of age and older with adult supervision. If your child appears to be younger than 13, please be prepared to show proof of age with a birth certificate or student ID. The Ohio State Reformatory has the right to refuse entrance to anyone, for any reason. All sales are final and no refunds will be issued for any reason.
SHOP
Visit our Museum Store
from 6:00 pm to close
Thursdays, Fridays, Saturdays, and Sundays.
MUSEUM STORE WILL ACCEPT ALL MAJOR CREDIT CARDS.