FAQs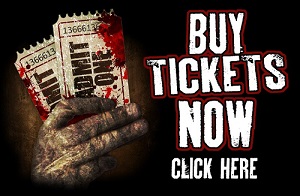 ON-SITE TICKETS ARE CASH ONLY.
Questions
Answers
A.
Every person who wishes to experience Escape From Blood Prison must purchase a ticket. Tickets are available for sale on our website. We will also be selling tickets on-site for those who wish to purchase them on the day of the event.
If you purchase a ticket online and wish to upgrade it to a Speed Pass or Lightning Pass, you can do so on-site.
We also offer group ticket sales. Groups of 20 or more individuals can purchase group tickets online or on-site.
A.
No. Escape From Blood Prison never sells out. If you or your group purchases a ticket prior to the closing of the ticket bus, you will be given a chance to test your bravery and enter the haunt...unless you chicken out.
A.
Wait times vary depending upon what day it is and the size of the crowd. On our busiest days, Friday & Saturday, wait times can exceed 2+ hours if you purchased a general admission ticket. If you don't want to wait that long to try your hand at THE SPEEDPASS or LIGHTNING PASS. A speed pass is available and will cut the general admission wait time in half.
For the ultimate experience, with the least amount of wait time, the Lightning Pass is available. Not only will you have the ultimate experience battling ghosts and monsters in a haunted penitentiary with this ticket option, but you will have virtually no wait time AND you'll be able to add on the TOUCH PASS for free.
A.
Yes. We offer two options to enhance your experience as Escape From Blood Prison. We have a Speed Pass, sometimes known as a Fast Pass. This option cuts wait time in half by allowing you to bypass the general admission line. It is great for those who can't wait to experience our Blood Prison.
A new option this year is the Lightning Pass. This ticket option is for the bravest of the brave. Not only will you practically get to enter the prison immediately, but while navigating the twists and turns the monsters, goblins, and other creatures of the night will jump out and touch you. This is not for the faint of heart!
A.
Costumes are encouraged! We want you to feel completely emerged in the experience. The only requirement we have is your face must be visible. You may wear a mask outside the building, but you will be required to remove it before entering the building. Masks will be held by our staff and can be retrieved after you have finished your tour.
A.
Due to the subject nature and the overall experience, Escape From Blood Prison is only appropriate for ages 10 and up. The Ohio State Reformatory and its staff reserve the right to refuse entrance to anyone who appears younger than 10. Children who appear younger than 10 should be able to produce some proof of age, such as a photo ID, birth certificate, or school ID. It is best to bring proof of your child's age, as we don't want anyone to miss out on this once-in-a-lifetime adventure. If you have children under the age of 10, we recommend not bringing them with you. Unfortunately, we do not have a safe place where they can wait for you as you go through the building. Keep children under 10 safe and don't bring them to the event.
A.
While we would love everyone to experience The Escape From Blood Prison event, it isn't possible due to the setup and layout of the building. There are multiple stairs, narrow hallways, and obstacles that make it difficult for anyone who is physically or visually impaired.
In addition, the event may not be suitable for pregnant women, those with heart conditions, and other health concerns.
A.
Food is available at the event. We have a variety of local food vendors available on site.
A.
Patrons are prohibited from bringing alcohol to the event. This is for the safety of not only you, but others at the event. Bringing alcohol and/or drugs on-site to the event will result in a report to the on-site police.
If you appear intoxicated, you will be unable to enter the building. There are a number of nearby local bars that you can enjoy after you have saved the world by completing your Escape From Blood Prison.
A.
Mother Nature cannot keep the monsters and creatures of the night away. Escape From Blood Prison will run rain or shine. Our on-site Museum Store does sell everything you will need to enjoy the event in the rain. Items available for purchase include umbrellas, ponchos, and extra socks.
A.
In order to keep the monsters safely away, we have to keep the building and the grounds closed during the day. This means we are unable to offer day tours while The Escape From Blood Prison event is ongoing.
We do offer day tours during our normal historical tour season. The tour season is between April 1 and September 1.
A.
On-site parking is included in the cost of your ticket. This allows you to get to the event quicker and not have to search for a parking spot.